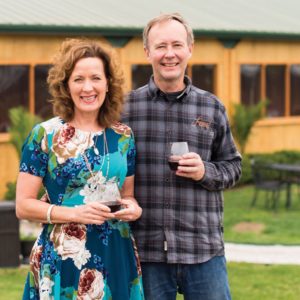 Somerset Ridge Vineyard & Winery evolved out of the love of wine that husband & wife, co-owners, Dennis & Cindy Reynolds shared since they were married in 1983. Over the years they travelled to wine regions throughout North America and Europe, and developed a joint passion for wine and the culture of the grapevine.
They pursued traditional careers for 20 years: Dennis as a trial attorney and Cindy as a business executive. But their love of wine and desire to work together in their own business eventually led to the establishment of Somerset Ridge. When Dennis's parents retired to a former cattle ranch near Somerset, Kansas in the early 1990s, Dennis thought the limestone ridge the property sat on would be ideal for grapes. They began planting the vineyard in 1998 and established the winery in 2001. Dennis and Cindy bought property adjacent to his parents and expanded operations in 2005.
The vineyard now has over 9,000 grapevines and the winery produces over 5,000 cases annually. Somerset Ridge was the first Kansas City winery to be established in Miami County since statewide prohibition in Kansas was implemented in 1881. However, prior to prohibition, the area around Somerset was a significant winemaking region. Now the area is once again a grape growing and winemaking hub, with numerous new vineyards, five licensed wineries and the establishment of the Somerset Wine Trail, all occurring since the opening of Somerset Ridge.
Dennis & Cindy continue to pursue their passion by creating artisanal regional wines that pair well with local foods, supporting the growing local, sustainable food & wine movement, and helping to reestablish the once proud Midwest grape & wine industry.