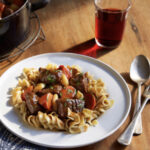 Print
Braised Pork With Red Wine
Materials
2

lbs

boneless pork shoulder

cut into large chunks

Salt and pepper

2

cups

Somerset Ridge Flyboy Red Wine

1

cup

good stock

or water

1

lb

fat carrots

peeled and cut into large chunks

10

cloves

garlic

more or less, peeled

2

tbsp

butter

Cooked egg noodles or Creamy Soft Polenta for serving

Chopped fresh parsley leaves for garnish
Instructions
Combine pork, salt and pepper to taste, Somerset Ridge Flyboy Red Wine, stock, carrots and garlic in a saucepan, Dutch oven or slow cooker.

Bring to a boil, then adjust heat so that mixture simmers steadily but not vigorously.

(If using a slow cooker, just turn it to ''high'' and let cook for at least three hours.)

Cook, stirring every half-hour or so, until meat is very tender and just about falling apart, at least an hour and most likely a bit longer.

Use a slotted spoon to remove solid ingredients to a bowl, then turn heat to high.

(If using a slow cooker, transfer liquid to a saucepan for this step.)

Reduce to about a cup, or even less. Taste and adjust seasoning, then lower heat and stir in butter.

Add solids to sauce and reheat. Serve over egg noodles or Creamy Soft Polenta, garnished with parsley.