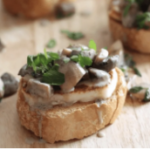 Print
White Wine Mushroom Bruschetta with Halloumi
Materials
1

tbsp

olive oil

3/4

lb

mushrooms

diced

2

cloves

garlic minced

1/2

lb

halloumi cut into 1/2" slices

(an imported cheese from Cyprus)

Small baguette cut into 9 to 10 slices

1/2

cup

Somerset Ridge Chardonel

1/4

cup

half and half

3

tbsp

fresh parsley chopped

Salt

Black pepper
Instructions
Heat the olive oil in a frying pan, and add the mushrooms and garlic.

Cook over a fairly low heat for 5 minutes, until the mushrooms are soft.

Then add the Chardonel wine, and bring to a gentle simmer.

Cook for a further 5 minutes, until there isn't too much excess liquid left over.

White the mushrooms are cooking, put the slices of halloumi in a single layer in a different, dry frying pan, and place over a medium heat.

Cook for around 5 minutes - the halloumi will release some liquid, and once this liquid has cooked off, the cheese will begin to brown.

When the underside is nice and golden, flip the halloumi slices over and repeat with the other side.

(note: this side will cook a lot more quickly than the first side!).

Place the baguette slices on a baking tray and grill (broil) for a couple of minutes each side, until golden brown and crispy.

When the white wine has cooked right down, add the cream, and cook for a couple more minutes until the sauce is thick.

Add the fresh parsley, and season with a touch of salt and plenty of black pepper.

To plate the bruschetta, add a slice of halloumi to each piece of baguette, and top with the mushroom mixture and extra fresh parsley.

Serve immediately.