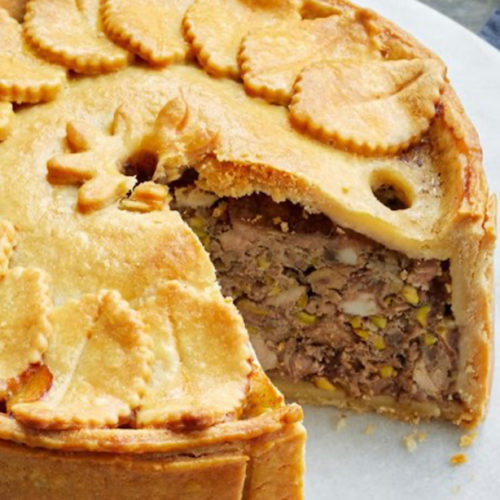 New Years Eve Meat Pie
Equipment
Meat Grinder

2-3 inch cookie cutters
Ingredients
Filling
2

tbsp

extra-virgin olive oil

3

shallots

minced

1

ounce

fatback

cut into 1/4-inch pieces

3

ounces

chicken livers

cut into 1/4-inch pieces

8

ounces

boneless skinless chicken thighs

cut into 1/3-inch pieces

8

ounces

boneless pork shoulder

cut into 1/3-inch pieces

2

tbsp

Somerset Ridge Ruby Port

1

tbsp

chopped fresh sage

1

tbsp

chopped fresh thyme

1/2

tsp

ground allspice

1/2

tsp

ground coriander

1/4

tsp

freshly grated nutmeg

Kosher salt and freshly ground pepper

1/2

cup

sliced pistachios

preferably Sicilian
Hot Water Crust
3 1/2

cups

unbleached all-purpose flour

plus more for dusting

1 1/2

teaspoons

kosher salt

1 1/2

sticks

sticks unsalted butter

(3/4 cup)

6

ounces

lard

1

cup

unbleached bread flour
Aspic
1

envelope unflavored gelatin

(1/4 ounce)

1/2 - 3/4

cup

chicken stock

preferably homemade, heated
Instructions
Ground Meat
In a large bowl, combine fatback, chicken livers, chicken thighs, and pork shoulder.

Pass through medium blade of a meat grinder into another large bowl.
Filling
In a small skillet, heat oil over medium-low; add shallots and cook until well caramelized.

Let cool completely, then add to ground-meat mixture.

Add fatback, chicken livers, chicken thighs, and pork shoulder; mix to combine.

Add Ruby Port, sage, thyme, spices, 2 tsp salt, and 1/2 tsp pepper; mix to combine.

Refrigerate, covered, while you make crust.
Hot Water Crust
Preheat oven to 375 degrees with rack in center.

In a large bowl, whisk together flours and salt.

In a small saucepan, bring butter, lard, and 1/2 cup water to a boil, then remove from heat.

Pour over flour mixture, and mix with a wooden spoon until a ball of shaggy dough forms.

On a lightly floured surface, knead until smooth, about 3 minutes.

Divide dough in half; set one half aside.

Cut remaining half into two equal pieces; wrap separately in plastic to prevent drying out.

Working quickly (dough is best to work with while warm), roll out reserved dough half between two sheets of parchment to a 1/4-inch thickness.

Using the base of a 10-inch springform pan as a guide, cut a round from dough; fit into bottom of pan, pressing into place and patching dough as needed.

Remove plastic from one of the dough pieces.

Cut dough into 4-inch wide strips; press up sides of pan to cover completely, re-rolling dough and patching as needed (dough should come up sides of pan to reach top edge).

Firmly press dough into place to ensure there are no holes. Reserve any remaining dough scraps.

Brush dough with a thin layer of egg wash to prevent any leaks.

Add filling to crust, smoothing surface with an offset spatula.

Remove plastic from remaining piece of dough; on a lightly floured surface, roll out dough to a 1/4-inch-thick round.

Place round over filling; press edges to seal with dough on sides of pan.

Create a vent by inserting the handle of a wooden spoon into center and making a hole.

Make a second hole near edge of pie.

On a lightly floured surface, re-roll reserved dough scraps to a 1/4-inch thickness.

Using a 2 1/2-inch leaf cutter, cut out leaves and score with the back of a paring knife.

Brush bottom of leaves with egg wash; adhere to top crust in a decorative pattern (be careful not to cover vents).

Using a 3-inch flower cutter, cut out a flower and make a hole in the center.

Place flower over vent in center of pie, making sure holes align.

Transfer pie to a parchment-lined rimmed baking sheet.

Bake until crust is golden and a thermometer inserted into vent reads 160 degrees, about 1 hour 20 minutes.

Carefully remove from oven and gently remove sides of pan.

Brush top and sides of crust with egg wash, then continue baking until deeply golden, about 15 minutes more.

Transfer to a wire rack and let cool completely, at least 2 hours.
Aspic
Sprinkle gelatin over 2 tbsp water; let stand until softened, about 5 minutes.

Add to 1/2 cup heated chicken stock; let stand until gelatin has dissolved.

Insert a funnel into vent along edge of the pie; slowly add stock mixture, a little at a time, so it does not overflow.

Refrigerate pie overnight; bring to room temperature before serving.