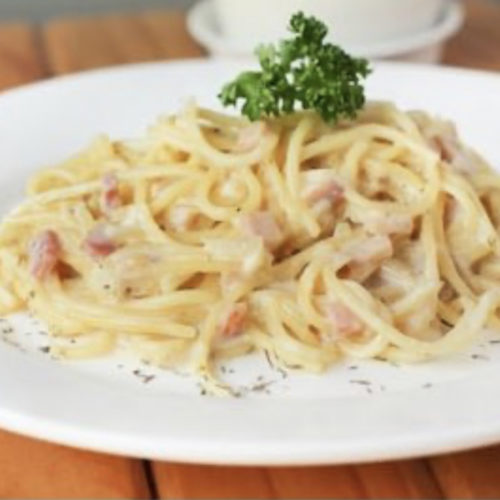 Somerset Ridge Pasta Carbonara
Ingredients
1

lb

spaghetti

2

cups

cubed pancetta rind removed

or substitute bacon

2

tsp

olive oil

1/3

cup

Somerset Ridge Oktoberfest

4

eggs

1/2

cup

freshly grated Parmesan

1/4

cup

heavy cream with approximately 38% butterfat

Freshly ground black pepper

Freshly ground nutmeg
Instructions
Put a large pot of water on for the pasta.

In another large pan, sauté the pancetta cubes in the oil until crispy. If using bacon, omit the oil. If there is a lot of bacon fat in pan, remove all but approximately 1 tablespoon of fat.

Add the Oktoberfest wine and simmer a few minutes, until you have a syrup left. Take the pan off the heat.

In a bowl, beat together the eggs, Parmesan, cream, and pepper.

Cook the pasta according to the packet instructions, but remove from the heat several minutes before it reaches al dente stage.

Save approximately 1/2 cup of the pasta water before draining.

Put the pan with the bacon cubes back on the heat and add the drained pasta, tossing well to coat with the syrupy pancetta.

Take the pan off the heat again and add the eggs and cheese mixture, swiftly tossing everything to mix.

Thin with reserved pasta water, if needed. Grind over some more pepper and grate over the nutmeg to serve.