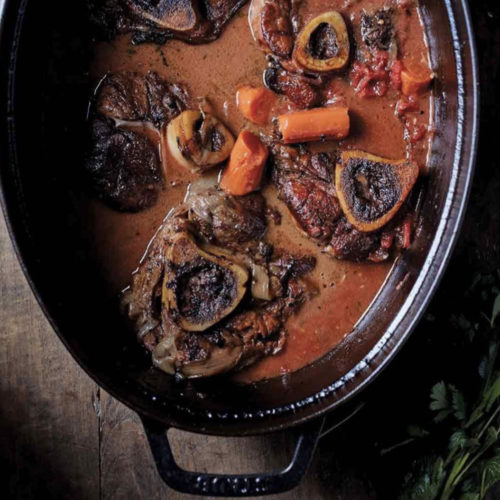 Somerset Ridge Veal Osso Bucco
Ingredients
4

tbsp

canola oil

8

veal shanks

1 1/2 to 2 inches (4 to 5 cm) thick

Kosher salt and freshly ground black pepper

2

medium yellow onions

cut into 1-inch (2.5-cm) thick slices

2

medium carrots

cut into 1-inch (2.5-cm) pieces

10

medium garlic cloves

6

sprigs fresh thyme

2

cups

Somerset Ridge Chardonel

6 - 8

cups

store-bought or homemade beef stock

1

can

whole peeled San Marzano tomatoes

28-ounce

Grated zest and juice of 1/2 lemon

1/2

cup

fresh flat-leaf parsley leaves
Instructions
Preheat the oven to 375°F (190°C)

In a large Dutch oven set over high heat, warm 2 tablespoons oil

Arrange the veal shanks on a flat surface, pat them dry, and season them generously on all sides with salt and pepper

Brown the first 4 shanks on all sides in the hot oil, 5 to 6 minutes per side.

Place the shanks on a baking sheet

Add 2 more tablespoons oil to the Dutch oven and let the oil heat

Brown the remaining 4 shanks. Don't rush the browning—it's the most important part in building deep flavor

Transfer the second batch of shanks to the baking sheet

Reduce the heat under the Dutch oven to medium and add the onions, carrots, garlic, thyme sprigs, and the Chardonel Wine

Simmer until the wine is reduced by half, 7 to 8 minutes

Return the shanks to the Dutch oven and cover them with 6 cups beef stock, the tomatoes and their juices, and, if needed, a little water to fully cover the veal

Bring the liquid to a simmer over medium heat and skim any impurities from the surface

Cover the Dutch oven and place it in the center of the oven

Braise until the shanks are completely tender, 1 1/2 to 2 1/4 hours

If the liquid reduces so that less than half the meat is covered, add 2 cups stock and continue cooking the meat

If ,after 1 1/2 hours or so, the meat isn't completely tender, don't be afraid to add some water and cook it longer

Place the shanks on a platter and season with salt

Simmer the cooking liquid remaining in the Dutch oven over medium heat until slightly reduced, about 10 minutes

Taste and adjust the seasonings accordingly and stir in the lemon zest and juice and the parsley

Pour the sauce over the shanks. Serve immediately.