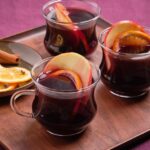 Print
Mulled Wine
'Tis the season! What better beverage to be sipping on right now that warm, spiced wine?! A crisp, blanco-style mulled wine cocktail made with our Buffalo Blush and spice-infused Apple dessert wine.
Materials
1

bottle

Somerset Ridge Avalon Dessert wine

mulling spices

1

bottle

Somerset Ridge Buffalo Blush

dried citrus

optional for added flavor

1

bottle

Somerset Ridge Lucky Dog Hard Cider
Instructions
Taste your Avalon dessert wine (delicious!) to make room for your mulling spices within the bottle

Time to infuse! Pour your mulling spices into your bottle of Avalon. Infuse for 3-4 hours, then strain

Heat your bottle of spiced Avalon with your bottle of Buffalo Blush in a saucepan or pot from your kitchen

For added flavor, feel free to add citrus like oranges to your brewing concoction! You can also add a splash of your favorite spirit from your home bar

Remove your brew from heat and add a splash of Lucky Dog Hard Cider to taste! It will help cool your drink and control your sweetness level. Cheers!